FOR IMMEDIATE RELEASE Contact: Dan and Tina Lopez Phone: (407) 333-1010
LOCAL REALTOR® AWARDED CRB DESIGNATION Lake Mary, 12/4/2012 — Dan and Tina Lopez, Lake Mary owners of Legends Realty, were awarded the coveted CRB (Certified Real Estate Brokerage Manager) Designation conferred by the Council of Real Estate Brokerage Managers (CRB). The Council of Real Estate Brokerage Managers (CRB), an affiliate of the NATIONAL ASSOCIATION OF REALTORS®, is the professional organization for brokerage management. The Council is dedicated to providing quality professional development programs, products and services that continually enhance the management productivity and profitability of its more than 7,000 members. The CRB Designation is recognized throughout the industry as the highest level of professional achievement -- a symbol of excellence in brokerage management. The most successful brokerages are owned or managed by professionals having the coveted CRB Designation.
The Council awards the CRB Designation to those individuals who successfully complete the requirements and demonstrate excellence in real estate brokerage management. Candidates must complete academic and professional courses covering such topics as finance, marketing, training, recruiting, and strategic planning. Dan and Tina Lopez are the real estate brokerage owners of Legends Realty, a Central Florida based full service sales and property management company. Legends Realty services communities in and around the Orlando metro area including the counties of Seminole, Orange, Volusia, Osceola and Lake counties. Specializing in the sale and rental management of single family homes, townhomes and condominiums. The office is located at 290 Waymont Ct. Suite 100 in Lake Mary. Dan and Tina Lopez are members of the ORLANDO REGIONAL REALTOR ASSOCIATION Board of REALTORS® and the Florida ASSOCIATION OF REALTORS®, They both also serve on the Orlando Chapter of the National Association of Residential Property Managers.
The Council of Real Estate Brokerage Managers (CRB) is the central source for brokerage management information and education and is the voice for real estate brokers and managers within the industry. Members are at the forefront of new developments in brokerage management. For more information, call the Council Services Department at 800-621-8738 or visit www.crb.com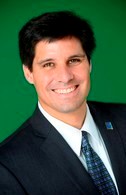 Dan Lopez | Legends Realty | 290 Waymont Ct., ste 100 Lake Mary, FL 32746 | danlopez@legendsre.com | Mobile: 407-705-3915 | www.HomesInCentralFL.com